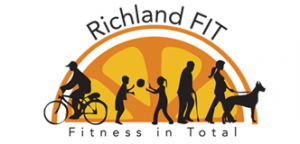 Richland FIT is the umbrella under which a lot of programs are happening in our community. Richland County Public Health received two grants which has allowed them to hire 2 full-time Health Educators to coordinate the initiative.
The Wisconsin Partnership Program Grant is a privately funded grant from the University of Wisconsin School of Medicine and Public Health. The objectives of this grant are:
Implement a comprehensive Farm to School Program in the Richland School District
Implement Nutrition Prescription process in the Richland Medical Center
Conduct Food for Life Cooking Class in conjunction with the Nutrition Prescription protocol
Increase access to health food by making the Richland Area Farmers Market EBT accessible
Develop and train area youth in advocacy skills and create a youth group focused on healthy living
The Transform Wisconsin Active Communities Grant is a federally funded grant from the Centers for Disease Control and Prevention. The objectives of this grant are:
Implement the Core 4+ Active Schools Strategies in the local schools
Update or create new Recreational Use Policies in schools that comply with the Open Gym Act and increase access to public spaces for recreation.
Most recently we have pulled together a community coalition of volunteers who share in the passion of making Richland County a healthier place to live. The Coalition will be able to expand on the work being done through the grants and also organize  events and programs they want to see happen.